You Really Do Love WoW!
We just wanted to say a big thank you to all of you who took the time to place a comment on our Facebook feed, saying how much you loved World of Wool. We were overwhelmed!!
We've picked just a few to share with you here, but we loved each and every one of them!

"My favourite shop! I can't get to you often but when I do, I feel like I have died and gone to heaven. All those fabulous colours, all that wonderful texture and woolly smell." Rosalind Johansson

"I work with your best merino wool to teach children to create amazing bespoke items, And for Valentine's day I will be offering hand-made needle felted Red Hearts key-rings." Stephanie Crechriou

"I have so much fun and enjoyment putting my order together, then the anticipation of when it will be delivered - then then then.....the excitement when it arrives! its love-ly from start to finish! ordering is easy, help is excellent, delivery expedient and the delivery man helps my daughter man handle the box into my hall! how about that for service!" Jean Fenton

"Is there anything not to like? I am a self confessed woolaholic and I love it all. Fab range, fab prices, fab quality, fab customer service, fab delivery ....... fab, fab, fab." Roz Legge

"I love making a day of it and coming to fondle the awesome wooliness at your shop. The best quality of wool I've found for my spinning anywhere." Emily Fearnley-Norris

To see all the lovely comments we received visit our Facebook page.
Posted
23rd February 2015
Share
Next Story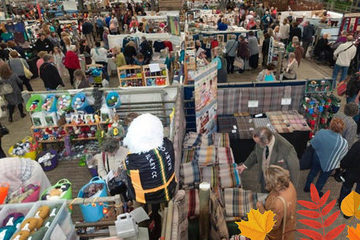 2015 is going to be a busy year for the crafting community, with an abundance of events we can all look forward to. Here are just a small handful of exciting events taking place throughout the year.
Latest in this category