Forthcoming Crafting Events 2015
2015 is going to be a busy year for the crafting community, with an abundance of events we can all look forward to. Here are just a small handful of exciting events taking place throughout the year.
February

Craft Hobby & Stitch
Europe's largest and most influential dedicated trade show for the art, craft, needlecraft and hobby sector, Craft Hobby + Stitch International returns for its 40th year in 2015!
The NEC, Birmingham
15-15 February 2015
Craft Hobby & Stitch Website

March

The Spring Knitting and Stitching Show
With over 200 exhibitors, whatever your craft passion, you'll find essential supplies and inspiration.
Olympia Central, West Hall Level 1, London
5-8 March 2015
The Spring Knitting And Stitching Show Website

The Stitching, Sewing & Quilting Show
A show for lovers of fashion, quilting and hobbycraft, with everything from demonstrations and workshops to costumes from the retail-inspired drama Mr Selfridge.
SECC, Glasgow
5-8 March 2015
The Stitching, Sewing & Quilting Show Website

Hobbycrafts
For all of the latest creative craft supplies visit the award-winning Hobbycrafts show at the NEC, Birmingham from the 19 - 22 March where you will find over 120 exhibitors offering everything for papercraft, cardmaking, jewellery making and more.
The NEC, Birmingham
19-22 March 2015
Hobbycrafts Website

April

British Craft Trade Fair
BCTF has been promoting British hand-made giftware for 40 years, longer than any other trade fair in the UK.
Great Yorkshire Showground, Harrogate
12-14 April 2015
British Craft Trade Fair Website

Wonderwool Wales
A festival of Welsh wool and natural fibres. Enjoy a fantastic range of Welsh and British artisan products and an opportunity to meet the wonderful people who made them.
Royal Welsh Showground, Llanelwedd, Builth Wells, Powys LD2 3SY
25-26 April 2015
Wonderwool Wales Website

May

Codswallop
Codswallop is an enthusiastic Collective formed of six illustration and design artists. With a mixture of illustration, print, watercolours and embroidery, there's something for everybody in this exhibition.
Sock Gallery, Loughborough Town Hall, Loughborough
16 Apr - 30 May 2015
Codswallop Website

Woollen Woods
The Woollen Woods is an enchanting outdoor art installation featuring hundreds of woodland-themed woollen artworks in support of 'The Campaign for Wool'. Participants can use any technique to create their woollen artworks.
Multiple locations throughout the UK
15-24 May 2015
Woollen Woods Website

Earth, Sea & Sky - Reflections in Felt
Angela Strange presents hand made felt using traditional wet-felting techniques. Cumbrian felted landscapes will be complemented with ceiling to floor length Nuno felt wall hangings created with vintage silk saris.
Florence Mine Art Centre, Florence Mine, Egremont, Cumbria
23 May - 10 July 2015
Florence Mine Website

Proper Woolly
Plenty to see and do with demonstrations, workshops and various fibre animals for you to meet, plus exhibitors covering every element of fibre crafts.
Holsworthy Livestock Market, Devon
30-31 May 2015
Proper Woolly Website

June

The Contemporary Craft Festival
The Contemporary Craft Festival has grown from 4,000 to 8,000 visitors since it started and has become one of the most prestigious and highly acclaimed craft events in the UK.
Mill Marsh Park, Bovey Tracey, Devon
5-7 June 2015
The Contemporary Craft Festival Website

Leeds Wool Festival
Bringing together a jam-packed programme of textile workshops, talks, special performances and weaving demonstrations alongside the wonderful working looms and spinning mules there is so much to see and do.
Armley Mills Industrial Museum, Leeds
6 June 2015
Leeds Wool Festival Website

Holmfirth Arts Festival
Holmfirth Arts Festival is 11 days of music, art, comedy, theatre, literature and inspiring things to do in Holmfirth and the Holme Valley.
Holmfirth, West Yorkshire
11-21 June 2015
Holmfirth Arts Festival Website

Woolfest
Woolfest was founded to provide a showcase and a celebration of the best of wool and wool crafts.
At Mitchell's Lakeland Livestock Centre, Cockermouth, Cumbria
25-26 June 2015
Woolfest Website

July

Fibre-East
Fibre-East was conceived of, and is being developed, to benefit a specific community: individuals and small businesses working with wool and other natural fibres sourced in the UK, as well as the farmers who produce those fibres.
Redborne Community College, Ampthill, Bedford
25-26 July 2015

August

West End Fair
Situated in the heart of the historic festival city of Edinburgh and set against the stunning backdrop of Edinburgh Castle, the West End Fair brings together some of the finest contemporary arts, crafts and design-work from across the UK in one glorious open air venue.
St John's Episcopal Church, Princes Street, Edinburgh
8 - 30 August 2015
West End Fair Website

Horsley Wool Fair
The second Horsley Wool Fair - a celebration of British Wool plus artists' open studios
22nd August 2015, 10.30am - 4pm
The Hearth Arts Centre, Horsley, Northumberland NE15 0NT
Horsley Wool Fair Website


The Pop-Up Wool Show
As a lover of yarn and all things woollen, you are invited to visit the showcases lovingly prepared to inspire and feed your creative side.
The Oval Leisure Centre, Bebington, Cheshire
15 August 2015
The Pop-Up Show Website


September

Great Northern Needlecraft & Quilt Show
Patchwork and quilting exhibition and needlecraft with trade stands selling all items within the needlecraft trade.
The Great Yorkshire Showground, Harrogate, HG2 8QZ
4-6 September 2015

Bristol Wool Fair
A fabulous three day festival celebrating wool in all its glory!
Washingpool Farm, Main Rd, Easter Compton, Bristol. BS35 5RE
11-13 September 2015
Bristol Wool Fair

Yarndale (pictured)
Described as a "creative festival celebrating all things woolly and wonderful", Yarndale plays host to an impressive selection of talented and passionate exhibitors.
Skipton Auction Mart
26-27 September 2015
Yarndale Website

October

Shetland Wool Week 2015
Shetland Wool Week is a celebration of Britain's most northerly native sheep, Shetland's textile industries and rural farming communities.
Shetland Museum & Archives, Hay's Dock, Lerwick, Shetland, ZE1 0WP
26 Sept - 4 Oct 2015
Shetland Wool Week Website

West Wales Wool Festival
Here you will find all things woolly from beautifully hand crafted items to the equipment needed to make at home. Packed with live demonstrations throughout the day and interactive workshops.
The Queens Hall, Narberth, Pembrokeshire.
Saturday 10th October 2015
West Wales Wool Week Website

November

North Pennines Wool Event
The sixth North Pennines Wool event, celebrating local sheep and wools
14th November 2015 10am - 4pm
Trinity Hall, Beaumont Street, Hexham NE46 3LS
North Pennine Wools Website

The Knitting & Stitching Show
The definitive event for anyone with a love for stitch and crafts.
Harrogate International Centre, Harrogate
26-29 November 2015
The Knitting & Stitching Show Website

December

North Norfolk Wool Loft Open Day
Come along and meet old friends and new. Browse all our patterns, wool & fabrics
4th December 2015 10am - 4pm
Sheringham Community Centre, Holway Road, NR26 8NP
Norfolk Knitters Website

Aberdeen Ministry of Crafts
A monthly art, design and craft market. Supporting emerging and established artisans, producers, independent artists and designers.
5th December 2015 11am - 4pm
Methodist Church, Crown Terrace, Aberdeen AB15 6HE
Craft Scotland website

The Lacemaking, Quilting & Needlecraft Christmas Fair
A vast array of specialist suppliers of threads, tools, and accessories all under one roof.
5th December 2015 10am - 4pm
Cranmore Park, Cranmore Avenue, Shirley, Solihull, West Midlands, B90 4LE
The LQ&N website

If you have any events this year that you would like adding to our list, please email jenny@worldofwool.co.uk.
Posted
12th February 2015
Share
Next Story
Want to know what colours are the height of fashion for the Winter 2014 / 2015 season, so you know what shade of fibre to add to your basket for your next project? We have scoured the runway to bring you this season's colour palette.
Latest in this category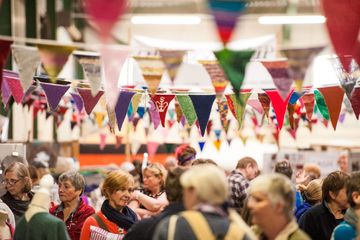 2017 is going to be a busy year for the crafting community, with an abundance of events we can all look forward to. Here are just a small handful of exciting events taking place throughout the year.
2016 is going to be a busy year for the crafting community, with an abundance of events we can all look forward to. Here are just a small handful of exciting events taking place throughout the year.