Fibre Focus - Herdwick Sheep
The Herdwick Sheep is the native breed of the central and western Lake District and live on the highest of England's mountains. The coat should be heavy and dense with a good undercoat of fine wool of even colour and quality over the whole of the body.
The Sheep
Herdwicks are a dual-purpose breed, producing strongly flavoured lamb and mutton and a coarse, grey wool. They are extremely hardy and are managed in the traditional way on the Lake District fells that have been their home for generations. The word "Herdwyck", means sheep pasture, and the sheep graze the central and western dales of the Lake District with fells running to over 3000 feet. Breeders have concentrated on retaining the Herdwick as an active and strong boned sheep of good conformation.
The lambs graze with their mothers on the "heaf" belonging to that farm, instilling a lifelong knowledge of where on the fell they should be grazing. This is crucial as the central Lake District fells are inaccessible and a sheep which strays from Borrowdale to Eskdale will involve a 100 mile round trip by road for the farmer to collect it.
The Wool
The Herdwick sheep has a heavy, dense coat of wool with an insulating undercoat of fine wool, perfect for surviving Lake District winters, Herdwick wool is a coarse quality hard wearing wool, approx 40 microns and a length of 85-90mm.
We stock light and dark grey Herdwick top at £1.50 per 100g, which is perfect for hand spinning!
Source: Herdwick Sheep
Photo: With thanks to Simons Images
Gallery
Next Story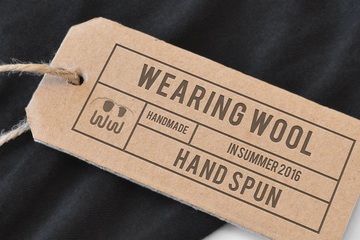 Summer is here, the warm weather is upon us and you may be wondering whether it's a waste of time making wool clothing at this time of year?
Latest in this category