Fibre Focus - Black Welsh Sheep
The Black Welsh Mountain Sheep has wool which is black, short, thick and firm to handle and it does not require dyeing. The sheep are very popular in the USA, Canada and Japan, as well as the UK and they even have their own association!
The Black Welsh Mountain Sheep will graze well on rough grazing but are also happy on the lowlands or a smallholding. They are prolific, good mothers and undemanding, hardy and self-reliant. They produce premium quality, lean meat with an excellent meat to bone ratio and are full of flavour.
The Association
The Black Welsh Mountain Sheep Breeders' Association was formed in 1920 and it is perhaps indicative of the Association's awareness of the commercial meat market that formation took place at a meeting convened by Major and Mrs Jervoise (Flock no. 3) at the Smithfield Show of that year.
Today the Flock Book has around 300 members throughout the UK, Northern ireland and overseas and interest continues to rise rapidly.
The Wool
The wool is black, short, thick and firm to handle and it does not require dyeing.
It is most suitable for making-up into cloth which is durable, light and warm. When used with good quality white wool it blends into attractive checks and patterns. The USA, Canada and Japan have all shown special interest in the wool for home spinning and weaving.
On several occasions the Breed has taken top honours in the Mountain and the Coloured Fleece classes at Shows. When cured, the rich, deep-pile black fleeced skins are in demand as floor rugs and chair backs.
Wool clip averages 1-2.5kg per fleece.
World of Wool - Black Welsh Mountain Sheep
We offer Welsh in both natural tops and batts. All Welsh wool from us holds the British Wool trademark.
Made from selected fleeces
33-35 micron
Average length of 80-100mm
Brilliant for spinning, super chunky knitting, felting and washing machine felting.
Blend: Welsh Wool
Yarn Weight: Super Chunky 1/1.5nm
Length: 130m approx
Hank Weight: 200g approx -/+ 5%
Needle Size: 10-12mm
Tension/Gauge Stitches per inch: 3
Tension/Gauge Rows per inch: 3
WPI: 7
Source: Black Welsh Mountain Sheep Association
Gallery
Next Story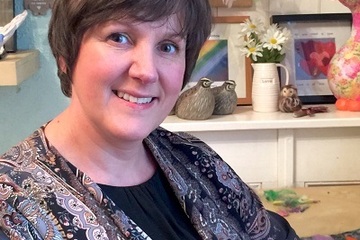 Jo lives in Bonnyrigg, Scotland with her husband, 2 teenage daughters and a menagerie of animals, many of whom feature in her work!
Latest in this category