Featured Artist - Vivienne Morpeth
Vivienne has been making felt for over 25 years and continues to be fascinated by the integrity and qualities of working dynamically with sheep fleece to create 2D and 3D felted products.
Vivienne makes a wide range of feltware, from large art hangings, story-telling puppets, wearables and accessories, through to needle felted garden birds. She is currently developing a range of everyday 'second skin' dresses, jackets and skirts and teaches this in master classes using her own hand dyed silks and inherited silk scarves with superfine merino.
She first learnt how to make felt whilst working as an Exhibitions Officer, curating exhibitions and initiating workshops and was amazed at the possibilities of making fabric from such a luscious, richly textured and tactile primary source.
Supported by travel awards from the Arts Council and British Council, Vivienne developed her own ongoing studio practice as a member of the International Feltmakers Association (IFA). She has held Open Studios annually, for over twelve years as part of Insight Open Studios in North Lincolnshire. Exhibited in Hungary, Norway, Russia, Germany, Italy and extensively in galleries in the UK, including Fantastic Wearables and Crowning Glory with IFA and now teaches a wide range of felting techniques and master classes in the UK and abroad!
I like to work a lot from visual memory with shades of colour and abstract shapes from my weekday walks and weekend bike rides along the river and then use these in the manner of synthetism, building up layers in the surface design and texture of the felt and practice this over and over continually pushing my ideas. I love working with the incredible integrity of the wool, the practical techniques and the aesthetic moods of colour and drape of the newly created fabric.
Today, Vivienne loves to use a variety of microns and fleeces for each aspect of her felting and loves the incredible range of fibers and equipment available to all designer makers.
Q&A
What do you enjoy most about your craft? I'm passionate about making both needle felting garden birds and wet felting garments. I teach many aspects of felting and really enjoy this aspect of encouraging new felters.
What is your favourite fibre? I have developed my blue tit, long tailed tit and now a Robin kit with your lovely Corriedale fleece.
What is your favourite breed of sheep? Corriedale for needle felting and super fine merino for my garments.
What do you like most about the company? Good website with accurate information and quick service and delivery, I really like getting my fleece the same week I order.
Vivienne's website is http://viviennemorpeth.uk and Facebook page https://www.facebook.com/viviennemorpethfelter
Gallery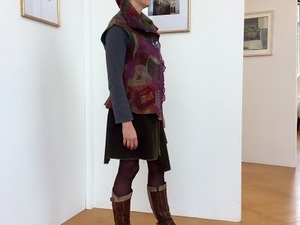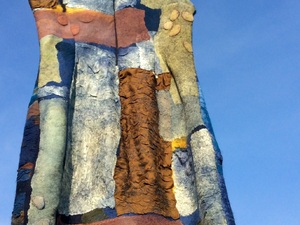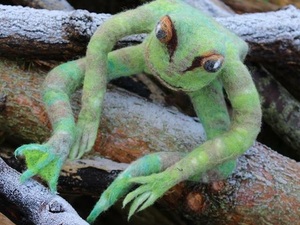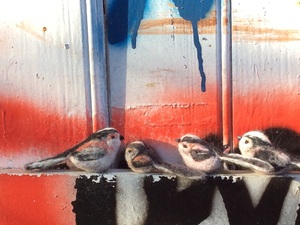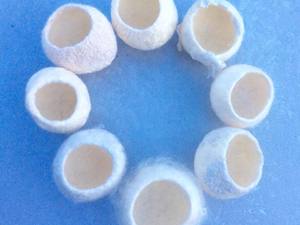 Next Story
Our Fibre Focus this month talks about the Swaledale Sheep, this is a domestic breed named after the Yorkshire valley of Swaledale in England!
Latest in this category