Featured Artist - Sue Fraser
Sue was taught to felt about three years ago by a colleague and now runs workshops for people who are experiencing mental health problems, in her role as an Occupational Therapy Assistant Practitioner.
She is fortunate to live in the Scottish Highlands, where she is a member of the Highland Felting Club, and constantly takes inspiration from the beautiful surrounding countryside for her work.
Thankfully I'm able to find the colours I need to recreate these images at WOW.
Explaining what she likes most about her craft, Sue said:
I enjoy happy accidents - things don't always go the way I plan them! I have always enjoyed art and crafts, in particular, watercolour painting. I now find it easier to paint in wool because the colours remain vibrant and do not run into each other. I also like the 3D effect that I can get by machine stitching onto felt.
Q&A
What is your craft? Felting
What is your favourite fibre? I like using merino wool because of the broad range of colours available, and I like black faced sheep because they are easy to needle felt onto my pictures. I also once incorporated my daughter's hair into a little felt purse, which she now uses to take her dinner money in to school.
What do you like most about WoW? I recently spent a half hour raking through a big bucket of botany laps in your factory. I brought home a big bag of fibres in a wonderful variety of colours and textures.
Sue's web site:
http://www.wooliebacks.com/
Gallery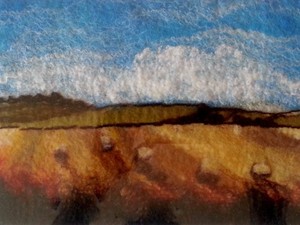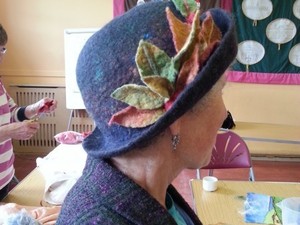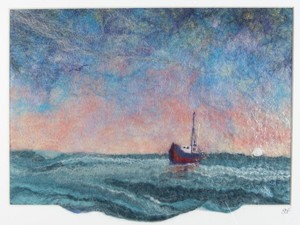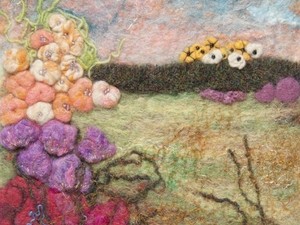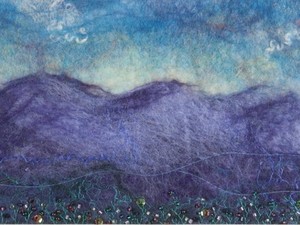 Next Story
Military wife, daughter and sister Rachel hails from Petawawa in Ontario, Canada where she lives with her husband, toddler, chickens, dogs and cats, and manages a local military museum, working extensively with the artifact collection.
Latest in this category