Featured Artist - Simon Brown
Simon has spent most of 2015 making tiny needle felted cats called Mini Me-ow's for the cat caés of Edinburgh!
He lives along the Northumberland coast with his four Devon Rex cats surrounded by countless cups of cold tea! Simon loves the wildlife of Northumberland and is fascinated by British folklore, which has so many rich and fabulous stories that he tries to inject into his work. Simon creates stories that feature animals on imaginary journeys using found objects and beautiful textures.
His trip to Edinburgh was a spur of the moment detour up the Northumberland coast which led him to the Fenwick Gallery in Warkworth, which took his felting to a completely different direction. Encouraged by the gallery owner he was soon making hares and other British wildlife creatures embarking on imaginary journeys using incredibly textured wool and found objects such as old bottles, vintage wood planes, tiny crowns and even bristles from grubby brooms that have spanned over 3 generations.
I believe the right wool can give my work added movement which is why I try to combine fibres from all over the world, from wiry Icelandic wool and incredibly textured herdwick to camel hair and soft cashmere from the Far East, which all helps result in a beautifully tactile piece.
For Simon, 2016 should see the addition of dogs and owls to his body of work as well as more sculptural pieces including leaping hares and running foxes and also ceramics being introduced to create even more texture to his pieces.
Q&A
What do you enjoy most about your craft?: I love being able to mix really soft wool such as camel and cashmere with more wiry coarse wool such as Icelandic and Herdwick tops to create really textured pieces
What is your favourite fibre?: Herdwick is my current favourite
What is your favourite breed of sheep?: Jacob as they look terrifying!
What do you like most about the company?: I love the variety of wools on offer, especially the more textured tops that help breathe life and movement into my pieces
Simon's website is www.fenwickgallery.co.uk
Gallery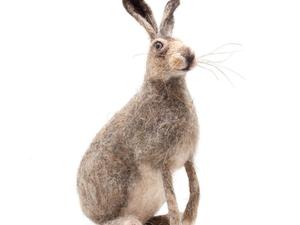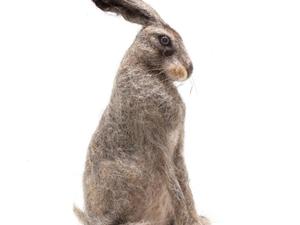 Next Story
The Icelandic sheep are stunning to look at, both for their spectacular fleeces and their equally impressive horns, and they usually have twins or triplets!
Latest in this category