Featured Artist - Nicki Parkin-Jones
Nicki, from Cornwall, is a relative newcomer to felting but in the past year has taught herself to create some beautiful felted items. Nicki finds felting a deeply relaxing experience and says it often "puts me in a meditative creative space".
She felts using a blend of wools, fibres, crushed crystals and herbs, as well as wet felting bespoke home furnishings and needle felting natural designs inspired through nature.
As a felt artist I enjoy making large pieces of felt work, ranging from kingsize bed covers to large or small felted cushions and heavy shawls that are ideal for the BBQ or beach party. I take my inspiration for the designs from mother nature, creating cushions with ghost leaf designs in mallard and moorit colours, fire shawls with ivy and woodland plants, to my daisy collection of cushions and throws using white cheviot wool with silk, flax and merino wool blends. I am very passionate about my felting and feel it is a fantastic way to relax, create and produce wonderful natural pieces that are warm and cosy for the home.
Q&A
What is your craft? Felter
What is your favourite fibre? My favourite fibre is wool but enjoy trying the different blends of wool and silk together. At the moment I love the merino blend with silk and flax as it gives such a natural look.
What is your favourite breed of sheep? I love Cheviot, moorit shetland and finnish wools for creating the base of large throws and cushions. The wools are sturdy and produce a bouncy thickness that is warm and comforting to the touch.
What do you like most about WoW? The company provides a beautiful and fantastic varied choice of wool and fibres to use for felting. It is so easy to order and pay online and just wait for the wool to arrive.
Nicki's web site: http://www.crystalcompanions.com/
Gallery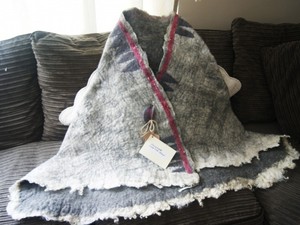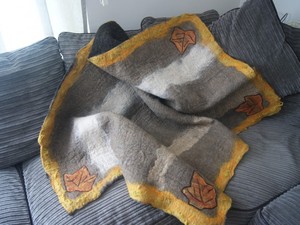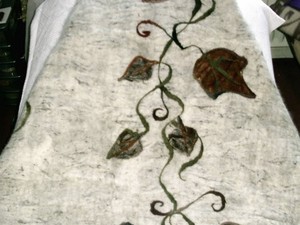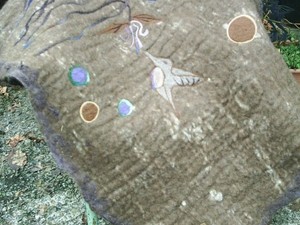 Next Story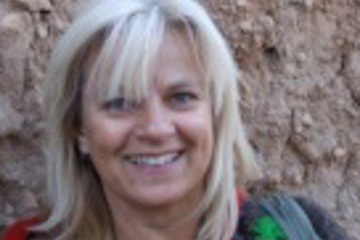 Lincolnshire based Cindy Thompson has only been felting since October/November 2012.
Latest in this category