Featured Artist - Melanie Green
Melanie, who lives in the seaside town of Scarborough, has been a craft enthusiast as long as she can remember. Her mother had her own craft business so she grew up in a very creative household and was encouraged to play with any leftover materials her mother had. Melanie also studied textile design at Loughborough University and has pursued a passion for craft all her life.
My work is about nature, predominantly birds and their fragility. Each bird has a sense of whimsy and fun to it. My passion for nature came from my Grandfather, he used to take me and my sister for walks around Meanwood Valley in leeds and point out all the different birds and trees to us - he knew all their names. I enjoy the almost magical process of feltmaking, you start with a pile of fluffy fleece and then it takes shape under your hands and needles until a bird emerges. I always have a vague idea of what they will look like at the end of the process, but it never fails to surprise me how different all my birds end up, they all have very distinct personalities.
Q&A:
What is your craft? I make needlefelted birds in both large and small scale, most recently I have been making a collection of large scale owls.
What is your favourite fibre? I work mostly in merino or sheltand wool, I think merino has to be my favourite fibre for it's softness.
What is your favourite breed of sheep? Wensleydale... I love a curly sheep!
What do you like most about WOW? I love the range of fibres and colours available on WOW, it's great to be able to find all the fibres I need all in one place. I have to hold myself back and try to buy just what I need but that doesn't mean I don't slip and buy a colour I haven't got just because it looks too gorgeous to pass up!
Melanie's web site: www.feltmeupdesigns.co.uk
Gallery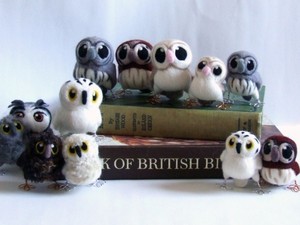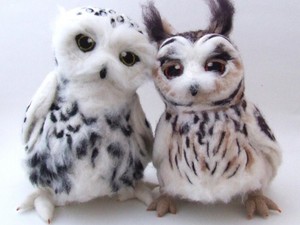 Next Story
Artist Sandie lives in the craggy North Pennines in an old lead mining community with dogs, cats, sheep, chickens, wildflowers, and a whole wide landscape right on her doorstep to explore daily and capture in art.
Latest in this category