Featured Artist - Kathryn Blakeley
Kathryn lives in Worcester with her husband and three Sons, and works part- time as a teaching assistant, and has a love of angels and fairies!
Kathryn began needle felting around two years ago, through a particularly difficult time with her Son who has Autism and learning disabilities. There was a period of around six months where she could not leave him alone. Although she has her own crafting room at home she couldn't get to use it due to her Sons needs at that time. She searched for a craft that could be done simply sat in a chair, with very little equipment, so when she found out about needle felting and once she tried it she was instantly hooked!
I love angels and fairies and wool was the perfect medium for me to create soft sculptures. I use Merino wool, I just love the feel and the beautiful range of colours it feels so magical to me. Autism can be very demanding and I needed to be able to put whatever I was doing down within a moments notice and focus on my Son. Crafting is my therapy, it soothes me and needle felting was a perfect distraction for me at this time. We got through it all and I tell him he is my angel, if it wasn't for him I wouldn't have started felting.
Since then she has made many, many angels, fairies and soft sculptures for people of all ages, different occasions and charities. Her Angels have now flown as far as America and Australia. Her smallest customer was a very poorly boy who was in hospital and needed an angel who looked like his Mummy to hang over this cot to comfort him when she could not be there. '
I feel very privileged that people choose me to create something special for them to represent a precious memory or loved one.
Although Kathryn loves her day job as a teaching assistant and has now taught felting, among other crafts within the school, she dreams of owning her own studio shop and doing this full time and even teaching others how to felt. She also makes jewellery, clay creations and has recently started painting.
''I just love to make things, I have always been creative even as a small child. I love the feeling of making something from nothing. Everything I do is self taught, I look at things and want to make them myself. Sometimes it turns out perfectly and other times I make a huge mess, but it's always fun!''
Q&A
What is your craft? Needle Felting and occasionally wet felting.
What is your favourite fibre? I love Merino dyed wool tops.
What is your favourite breed of sheep? Merino.
What do you like most about the company? The range of colours and variety of the wools. It's a great service and fast delivery too, everything I need is in one place so I don't go anywhere else.
Kathryn's website is www.feltlikeanangel.co.uk and Facebook page https://www.facebook.com/Felt-like-an-angel
Gallery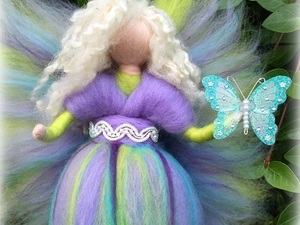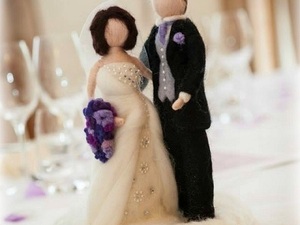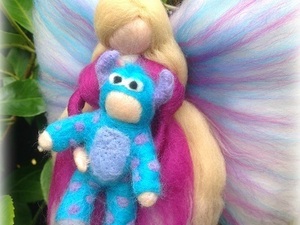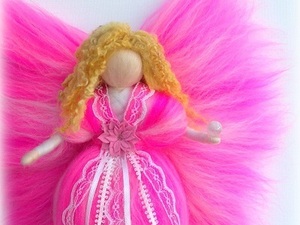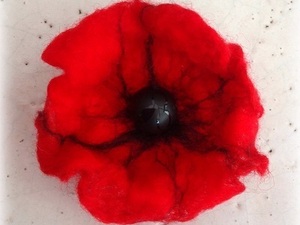 Next Story
This month our Fibre Focus talks about the Manx Loaghtan Sheep, these sheep are one of the oldest and most striking breeds of sheep in the UK.
Latest in this category