Featured Artist - Karen Price
Although Karen - who lives in Cannich - always had a love of art, she found for many years that life took over and there wasn't time to fit it in, but as her children have now reached a stage where they are much more independent she has been able to explore art and crafts, settling happily with needle felting.
I am inspired by the countryside that surrounds me here in the highlands of Scotland where I am lucky enough to live in a gorgeous village surrounded by mountains, lochs and farms. I have recently began to incorporate tweed material into my work, the tweeds, merino wools and other fibres work well together as they all originate from nature and compliment each others properties.Textile art is addictive and is something I am very pleased to have discovered.
Karen calls her pictures 'paintings' as it is often assumed that that is what they are. When people realise how they have been made they are always impressed and very interested in the technique. This has led to her to host workshops and pass on her skills to enthusiasts.
Karen's work will be appearing in an upcoming exhibition to be held in the Eden Court Theatre in Inverness throughout the month of October, entitled 'A Walk Through The Glen'.
A bit about Karen's 'paintings':
Coming Down has a background of merino wool which has been needle felted onto the base. The deer is made from tweed fabrics and details were added with free motion machine stitching.
Affric View, Homeward Bound and Fergus are a mixture of the two materials and techniques.
Benula View and Lochside Daisies are both made using purely the needle felting technique.
Q&A
What is your craft?: Needle felting.
What is your favourite fibre?: Merino wool tops.
What is your favourite breed of sheep?: Wensleydale.
What do you like most about the company?: The large selection of colours and also the personal touch such as sending the little card signed by a member of staff.

Karen's web site: http://kprice1975.wix.com/kpriceart
Gallery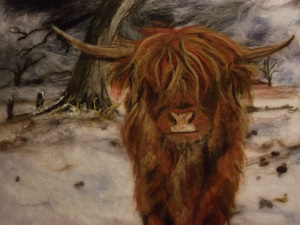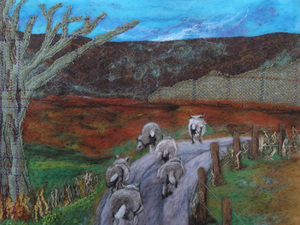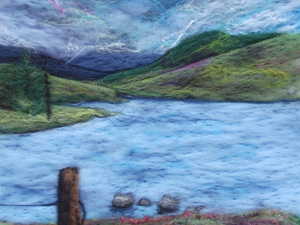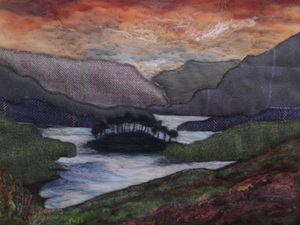 Next Story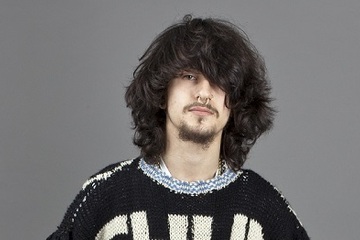 A lover of crafts and puzzle solving, Aaron spent his youth drawing firmly outside of the lines. Always having designs on doing something creative and indifferent, he set his sights on 'fashion designing eccentric'.
Latest in this category