Featured Artist - Jilly Carrington
Berkshire-based Jilly has been a WoW customer for 3 years, but a craft enthusiast for far longer. As you will see from the fabulous pictures below, Jilly's passion is for creating perfect felt replicas of dogs.
I was lucky enough to be taught the art of felting as a child, by a very elderly aunt, but it is only in the last few years that I fully appreciated all those hours that she spent painstakingly watching me learn the skills. I now make felted dogs, mainly as commissions, but I've also been lucky enough to have my work exhibited at the Modern Artists' Gallery in Berkshire and, just recently in Selfridges, Oxford Street W1. in London and Pedlars Store in Notting Hill, London W11 1JA. I've also made dogs for Lily Allen and Neil Tennant and my dogs have been featured in various magazines including Time Out and Prima. My favourite wool for felting the dogs is Shetland, but closely followed by several others including Jacob and Manx Loaghtan. I love natural wool, the type that seems like you might have collected it from a barbed wire fence whilst out walking. Wool is just the perfect medium for making my dogs, it makes it easy to depict both the physical aspects of the dogs as well as being tactile so that I can portray their individual characteristics. What I love most about the WOW website is just how clear the pictures, colours and descriptions of each wool available is - with dog making it's very important to be buying the correct colours in order to make the dogs as realistic as possible and with World of Wool it's almost impossible to make a mistake or the wrong choice. Plus I love the whole atmosphere of the website - I get so much pleasure just browsing and learning a bit more about the many wools available. One of these days I'm going to take a train up from the South of England where I live to go to WOW HQ and spend the whole day just browsing and enjoying every second of being in the actual shop.
Q&A:
What is your craft? Felting.
What is your favourite fibre? Shetland wool of all colours.
What is your favourite breed of sheep? Shetland.
What do you like most about WOW? It has a very personal feel - it's always a pleasure to visit the website. I wish I lived closer to the shop as I would probably be there every weekend!!
Jilly's web site: www.woollydogs.co.uk
Gallery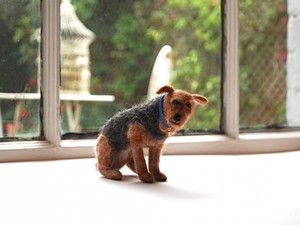 Posted
3rd September 2012
Share
Next Story
Glasgow based artist Sue has been a craft enthusiast since she was 2ft high, and continued her passion in her education, studying Printed Textiles at the Glasgow School of Art.
Latest in this category