Featured Artist - Jennifer Budd
Jennifer, who lives in Ontario, Canada, has only just discovered World of Wool but is already delighted with the quality of our products and the speed of delivery from U.K to Canada.
She has been a craft enthusiast for as long as she can remember. "My earliest memories are of making things," she says.
Watercolour was my medium until four years ago when I was introduced to the art of felting. I have had some wonderful teachers along the way, and continue to explore and play with wool. My work, woolscapes, are mostly representational of the two countries I have lived in, Scotland and Canada. I have a studio and small gallery in our century home in the town of Paris, Ontario. I love felting with wool. Gentle, soft and vibrant colours are transformed into strong and durable pieces of art that retain the softness and warmth of the wool fibres. Time dissolves when I am engaged in my work.
Q&A
What is your craft? I was a watercolour artist for many years, now I paint with wool. The end result is a felted painting. I use embroidery thread to embellish my work.
What is your favourite fibre? I like working with them all, each have their own unique response to the felting process, don't really have a favourite. I would say some fibres are easier to work with.
What is your favourite breed of sheep? My Dad used to have a flock of Border Leicester sheep on our farm when I was growing up in Perthshire. I remember helping to get them spruced up to show at local agricultural events. Border Leicester sheep would be my favourite.
What do you like most about WoW? Range of products and the colour groupings of the season's merino packs.
Jennifer's web site: http://www.woolscapes.com
Gallery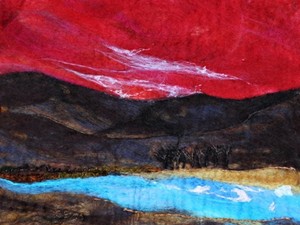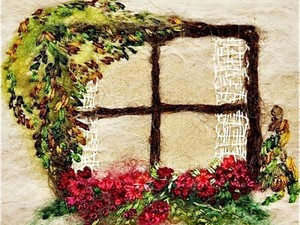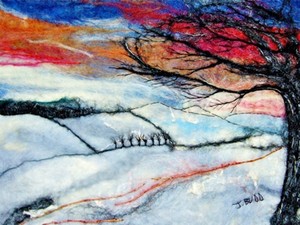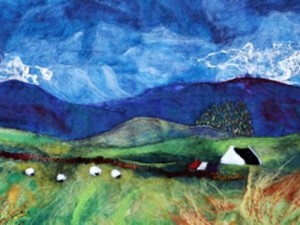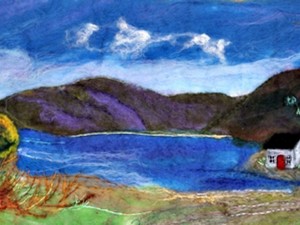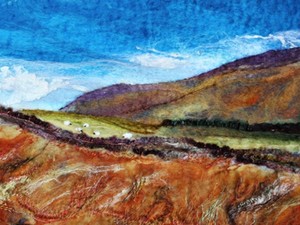 Next Story
Friends Janine and Isabelle come from different backgrounds as Janine is English born but now lives in the South West of France, whilst Isabelle is French. Fortunately they met when their sons became friends at school and soon discovered that they both had a love of felting. After a few years of felting together their business Jannio was born.
Latest in this category