Featured Artist Jannio - Janine & Isabelle
Friends Janine and Isabelle come from different backgrounds as Janine is English born but now lives in the South West of France, whilst Isabelle is French. Fortunately they met when their sons became friends at school and soon discovered that they both had a love of felting. After a few years of felting together their business Jannio was born.
Working with a friend is fantastic - ideas come again and again when we are experimenting with colours and designs. There seems to be so many endless possibilities with felting and so many different techniques. We use nuno-felting technique for most of our hats which are made with pure merino wool, and cotton fabric. Merino wool fibres are spread thinly upon a cotton fabric. The result is a light, soft and warm hat. The French beret style hats with the faces are like small paintings. We both are inspired by our beautiful surroundings! We live in the Perigord vert the south west of France! We have used all this knowledge now to turn the felt into usable objects like hats, scarves and bags. Our creations are like little paintings, instead of oil paint we use Merino wool as out paint pallet.
Q&A
What is your craft? We are felters.
What is your favourite fibre? Merino wool because it's so perfect for our hats.
What is your favourite breed of sheep? We love the breed Polwarth so beautiful.
What do you like most about WoW? We have just found you so we are looking forward to getting to know you, but we love the colors and range you have - we are amazed by how much there is to choose from!


Gallery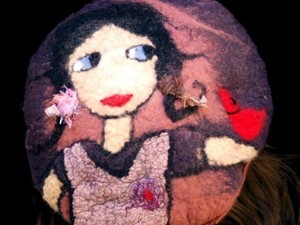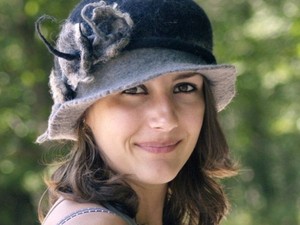 Next Story
Wife and mother of 4, Zsuzsanna reintroduced herself to the art of spinning 3 years ago. "I started to explore and learn about the craft because the knowledge of spinning is unfortunately falling into oblivion in my country.
Latest in this category