Featured Artist - Gina Dunford
Gina, who comes from Swindon in Wiltshire, has been crazy about art all her life, and particularly drawn to painting. In 2011 she discovered needle felting and was immediately hooked. Discovering wool has opened up so many different avenues of discovery for her....
I love the way that I can paint with wool, blend colours and textures, adding other materials and fibres into the composition. I love experimenting with what will felt and how it will look. It really appeals to my adventurous side. There are so many amazing books out there to refer to with so many different techniques. I will never grow bored with wool that's for sure! Felting makes me feel calm, I find it a really therapeutic process.
Gina says she is inspired by stories and folk tales, as well as the "awesomeness of nature", and is currently working on a collection of shawls and wall hangings that are directly influenced by her love of cave paintings.
"The most exciting part of making these is using and experimenting with all sorts of different fibres to replicate the colour and texture of the rock face."
Gina started her small textile business in late 2012, and her background in fine art and textiles has brought her to where she is now.
I love creating beautiful objects in luxurious materials. More than that, I take great pleasure in showing others how to do it too!
Q&A
What is your craft?: My love of wool began with needle felting, particularly needle sculpture and since then I've become totally fascinated with every aspect of wool. I now produce felt paintings and large nuno felted shawls as well as the odd needle felted fantasy bird.
What is your favourite fibre?: That's a really hard question. Merino 23 microns are the wools I've always started with, I love adding silk hankies, mulberry silks...Tussah silks and wool neps actually hold a very firm place in my heart.
What is your favourite breed of sheep?: I've recently bought some gorgeous corriedale wool, all crinkly and textured. I love the natural colouration of it.
What do you like most about the company?: WOW are always helpful and very knowledgeable. I always get so excited when knowing I have to place an order with WOW. There's nothing better than sitting down in the evening with a glass of wine and scrolling through all the beautiful dyed merinos on the 'Dyed Wool Tops and Fleeces' page. Yum!!!
I also teach workshops for various organisations and sell a range of designer needle felting kits. This means that sometimes I have to place orders very last minute. WOW have always been very reliable and accommodating.

Gina's web site:
www.chicachimu.co.uk
www.facebook.com/ChicaChimu
Gallery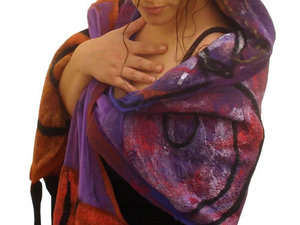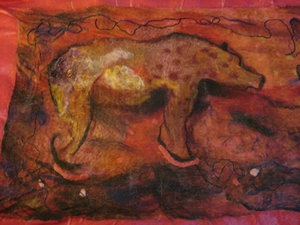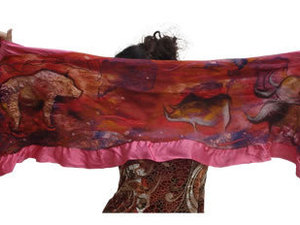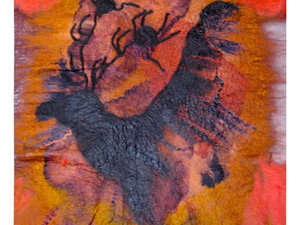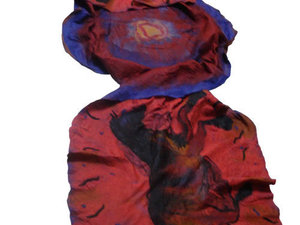 Next Story
Denise is a great example of how our fibres traverse the world as she joins us from Sydney, Australia, after recently discovering our online shop!
Latest in this category