Featured Artist - Elynn Bernstein
Elynn - who hails from Hendersonville, North Carolina - has been felting full time for about 5 years. Prior to felting she was a painter for 25 years, working in oils.
I have always been involved in making art. As a child I painted, and went to college to study art and design. I continued to paint after school and later on
 was fortunate in having my work chosen for many shows and had gallery representation. When I made a change in my life, 12 years ago, to fulfill a long time dream of living in the country, and having many animals, I learned how to felt with my own wool. I have been pursuing felting and selling my clothing and felted accessories ever since. I love the challenge of bringing the wool, the dyes, the silks, the patterns, and forms all together into a beautiful work of art.
Q&A
What is your craft? Nuno felting.
What is your favourite fibre? I am loving my custom blend of 50% silk and 50% fine merino.
What is your favourite breed of sheep? Merino.
What do you like most about WoW? You answer all my emails promptly, efficiently, accurately and helped me with all my questions. I have turned my other felting friends on to your company for their felting needs. You have such a great selection, I can't wait to try a lot of different wools; and you make that possible with your sample packs of things. Thank you for thinking of that.
Elynn's web site: www.amanostudios.com
Gallery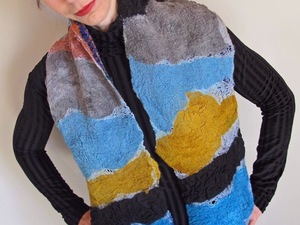 Next Story
Llanelli artist Deborah was taught by her seamstress grandmother to sew rolled hems before school age, however she kept her sewing and knitting a hobby until her youngest child started nursery, at which point she took the opportunity to reinvent herself.
Latest in this category