Featured Artist - Denise Lithgow
Denise is a great example of how our fibres traverse the world as she joins us from Sydney, Australia, after recently discovering our online shop!
Denise has been a craft enthusiast for 10 years and now has her own textile practice, runs workshops, regularly exhibits throughout Australia and has won numerous awards and prizes for her work.
I've recently had a two person exhibition at the Grenfell Regional Gallery and am represented in galleries in NSW and SA. I have a solo exhibition in Muswellbrook Regional Gallery in 2014. I was accepted as the Australian representative for the "World of Threads Festival" in Canada 2012 & 2014 and a finalist in the Broken Hill Outback Art Prize 2012 and 2013. Through these exhibitions I have received commissions for my work and am collected in international collections and have won prizes including at the Sydney Arts and Crafts exhibition and the Brisbane Art-U-Wear awards.
In her textile practice Denise has a strong sense of colour and design and reacts to what feels right in her work. Vessels are a very early utilitarian art form. She regards her vessels as a pure art because they lack any utilitarian function. Denise creates them because she enjoys them visually and at the same time know that they are part of a long history of development.
Denise will be teaching a workshop in Portugal in 2015 (Sept 16-23)
www.artinthealgarve.com/art-teachers/denise-lithgow
Q&A
What is your craft?: Felting Sculptural Felt Vessels
What is your favourite fibre?: The dyed wool tops and merino mixed bags.
What is your favourite breed of sheep?: Merino.What do you like most about the company?: The availability of the colours of the felt fibres.
Denise's web site: http://www.deniselithgow.com/
Gallery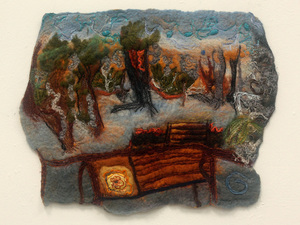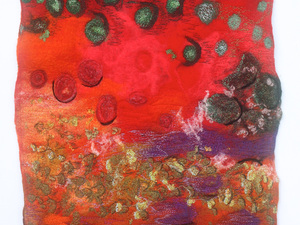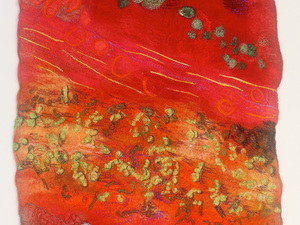 Next Story
Karen - who lives in Cannich - has always had a love of art, and now her children have reached a stage where they are much more independent, she has been able to explore art and crafts, settling happily with needle felting.
Latest in this category