Featured Artist - Deborah Leeke
Llanelli artist Deborah was taught by her seamstress grandmother to sew rolled hems before school age, however she kept her sewing and knitting a hobby until her youngest child started nursery, at which point she took the opportunity to reinvent herself.
It began with taking up spinning as a hobby being taught by Mary Eve, dyeing with Roy Russell. I was hooked, went to college for four years and never went back to accounting. I now enjoy teaching my grandchildren and was delighted to hear that my middle grandson had chosen me and my work as his show and tell.
When asked what she enjoyed most about her craft, Deborah said:
The depth of expression. Whatever theme I want to work on wool is the perfect medium. Woven tapestries for painterly work, wet felting for three dimensional work, knitting for my whimsical hats, these are just a few out of the myriad ways wool can be used.
Q&A
What is your craft? Constructed textiles, especially woven tapestry, wet felting and spinning.
What is your favourite fibre? Wool, wool and wool. Different breeds for different tasks. I enjoy silk as a highlight but wool is always my best fibre.
What is your favourite breed of sheep? North Ronaldsay. I used to have a small flock of Ronnies. I have great respect for Shetlands as we had a pair of those as well and they were canny in the extreme. I have tales to tell of how they bested us, both my husband and I landed in hospital thanks to Coffee and Cream.
What do you like most about WoW? It's community spirit.
Deborah's web site: www.deborahleeke-fibrearts.com
Gallery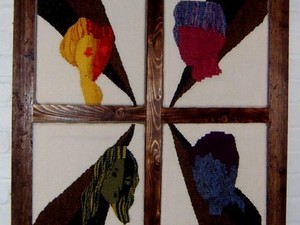 Next Story
Melanie, who lives in the seaside town of Scarborough, has been a craft enthusiast as long as she can remember. Her mother had her own craft business so she grew up in a very creative household and was encouraged to play with any leftover materials her mother had. Melanie also studied textile design at Loughborough University and has pursued a passion for craft all her life.
Latest in this category