Featured Artist - Carla Taylor
Carla and her Mousehole Woolery are located in the heart of the Dorset countryside where she creates contemporary sustainable 3d needle felted wool sculptures inspired by the animals and landscape of the British countryside and coastline.
She has been needle felting for a year and a half, but used to manage a day centre running therapeutic craft groups so always enjoyed different crafts. However her love of wool started when her partner returned to farming in Dorset.
The Mousehole Woolery journey started on a sunny afternoon whilst Carla was rolling sheep's fleece during shearing.
I couldn't believe that the farmers didn't get paid that much for the fleece and some of them basically classed this beautiful material as a waste product. I wanted to do something about that, so I looked on the internet and came across needle felting and taught myself.I love the versatility of wool, the range of colours and how needle felting allows me to transform fleece from fibres into, hopefully, a beautiful work of three dimensional art that tells a story about wool and the animals and landscape of the British countryside.
Carla also likes to raise awareness of conservation issues like her "Ghost Hare" that was created to raise awareness of the decline of the brown hare.
If we don't help to preserve them they will just become a distant memory or a picture in a book.
Carla recently took part in The Contemporary Textiles Fair at Teddington and continues to exhibit her work and run needle felting workshops at various galleries and venues across the South West. Her work will also soon be featured on the Country Living General Store.
Q&A
What is your craft?: Contemporary 3d needle felted sculptures inspired by the animals and landscape of the British countryside and coastline.
What is your favourite fibre?: Shetland Moorit natural tops.
What is your favourite breed of sheep?: Oh there are so many, Jacobs, Shetland, Cheviot, Pole Dorset and the list goes on.
What do you like most about the company?: I like the diversity of fibres and colours available and that if I have a question about wool you get straight back to me. You not only sell a product but a service built around wool.
Carla's web site: http://www.themouseholewoolery.co.uk/
Gallery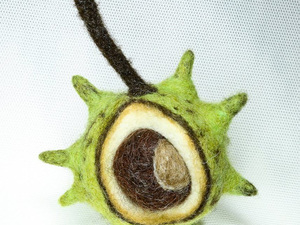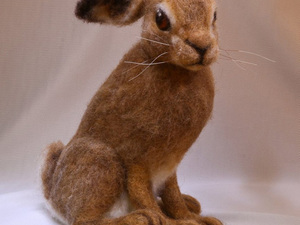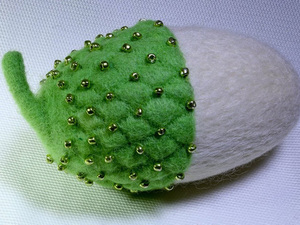 Next Story
We start our 'Fibre Focus' series with the handsome Jacob breed, which has a long and interesting history, starting in biblical times!
Latest in this category