Featured Artist - Brigitte Eertink
Brigitte lives in a colourful house in the Netherlands and has been captivated by the process of feltmaking for over eight years.
For me the great joy of felting is the creation of my own unique fabric. Felting allows me to create with my hands what I see in my mind. The possibilities are really endless! Actually, to felt for me is to play. Playing with colours, materials, and techniques. Just following your hands and be surprised!
In her felting Brigitte combines a lot of different techniques to create her own unique fabric, in colours that she loves. She describes her work as romantic and fairy-like and loves to use soft pastel colours like pink, lilac, purple and turquoise.
Colours and colour combinations inspire me the most. Old pictures, shapes and figures like dots, hearts, spirals and roses, also inspire me a lot. Besides felting I love all other craft techniques. I love to knit, crochet, embroider and spin. My work is always a combination of these techniques. For me, felt is the basis and it doesn't feel finished when I haven't added some embroidery, a little bit of crochet or some beads. After I finish the felting it usually takes me several hours to add all these other things. Compared to the physically demanding process of felting, doing the embroidery or beading feels relaxing to me.
Brigitte has a nice, cozy, colourful studio in her backyard where she loves to work and also loves to teach everything she knows to other people.
I teach workshops in my own studio but when people invite me I come over to teach at their studio. That could be in the Netherlands but also in other places all over the world. My goal is to inspire people with my work and to make the world a little bit more colourful!
Q&A
What is your craft?: Felting
What is your favourite fibre?: That's definitely the silk yarn!
What is your favourite breed of sheep?: Oh I like most sheep, as long as they are soft and feltable!
What do you like most about the company?: The large supply of different fibers.

Brigitte's web site: www.facebook.com/AtelierRozevilterije
Gallery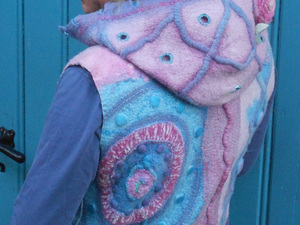 Next Story
We are delighted that the Chinese Year of the Sheep commences on 19 February - though, of course, we may be slightly biased!
Latest in this category