Featured Artist - Bridget Bernadette Karn
Bridget, who lives in the historic city of York, learned to felt in 2010 and has been obsessed with it ever since.
She has been passionate about arts and crafts since studying Craft Design to HND level at Carmarthenshire College of Technology and Art in 1994, and now shares her enthusiasm by teaching others to bring their creations to life.
Bridget runs two arts and crafts clubs exploring a number of skills, including painting, still-life drawing, printing, tie-dying, candle making, soap making, pastel work, patchwork and, of course, her specialities of ceramics and felting.
I love the versatility of felting; the textures of different wool types, the amazing way the colours can be mixed like paint, its pliability and because of these qualities, wool has provided for us throughout history.
Bridget, who was an active member of the Northern Potters until 2006 when she changed direction to start her own arts & crafts clubs, currently exhibits her felt artwork at Ye Old Sun Inn, Colton, York and at The Blossom Street Art Gallery in York.
Q&A
What is your craft? Felting - I make felt picture wall hangings and teach workshops on the many ways felt can be made and used creatively for accessorising our wardrobe, as well as for art.
What is your favourite fibre? Merino Wool is my favourite fibre - its softness works particularly well for clothing items.
What is your favourite breed of sheep? To be honest, I don't have a favourite breed, but I do like the lovely Rastafarian-style locks of the Wensleydale Sheep.
What do you like most about WoW? World of Wool's online shop is very accessible and also provides a wide range of wool types and diverse colours. I've enjoyed the Featured Artist each month and keep finding more interesting features on the site each time I visit.
Bridget's web site: http://brid536.wix.com/mygalleryspace
Gallery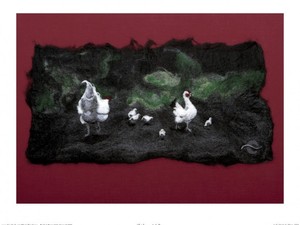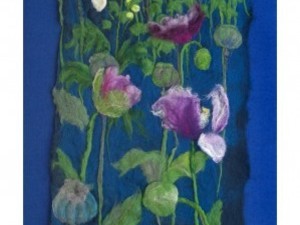 Next Story
Originally from South Africa, Cathryn now lives in Jersey in the Channel Islands with her husband and children. She has always had a love for art and crafts, but has been a committed enthusiast for the last six years.
Latest in this category