Featured Artist - Barbara Meek
Barbara has a colourful painterly style, likes to create landscape, floral pictures & explore Nuno. She teaches in a studio in Stafford, and in schools & community settings where she loves to teach the skills that she learnt on her rug making course in Turkey!
I can remember being taught by my Mum to knit, crochet and sew, she was a very accomplished dressmaker & knitter and made clothes for herself, 5 daughters and 2 sons; I know quite a handful! So I found that my interests as a child and young adult followed a natural progression in the love of all things handmade and textural. In 1996 as a mature student I completed a textile design degree fell into teaching for 13 years! I taught learning disabilities & also within mental health. But I had discovered feltmaking! I always played about with it as I was fascinated at how the natural fibres can so easily be blended, I love the painterly effects that can be created, the textures that can be added and how three dimensional forms can easily be created...when you know how!

Barbara particularly enjoys the process and the way she feels so calm whilst working with the fibres. Her students, whether adults, children or disadvantaged groups all say how therapeutic feltmaking is, and how you can completely immerse yourself in the process and forget everything else whilst creating beautiful art work.

She finds her inspiration from nature, buildings and particularly takes notice of colour and texture, which is showcased in her work. Barbara loves quirky situations and often tries to portray some humour into her work. Now that she has her studio, Barbara is looking forward to spending more time playing and developing new work.
Q&A
What is your craft?: Wet felting and needle felting
What is your favourite fibre?: Merino
What is your favourite breed of sheep?: Wensleydale
What do you like most about the company?: Fantastic, helpful customer service and friendliness.
How long have you been a craft enthusiast?: 20 years
What do you enjoy most about your craft?: I love to create beautiful uniques pieces of art out of natural fibres, whether that be wool, alpaca, angora or silks.
How long have you been a WOW customer?: 8 years
Is there anything you would like to see on the WoW website?: A course on rug making :-)
Is there anything else that you would like WoW to sell?: Muslin & silk material
Barbara's web site www.feltworld.co.uk
Gallery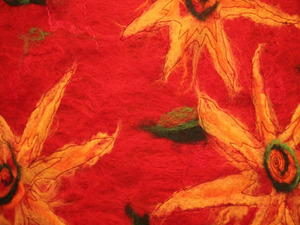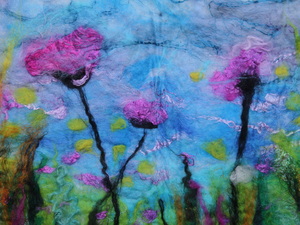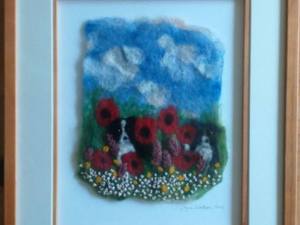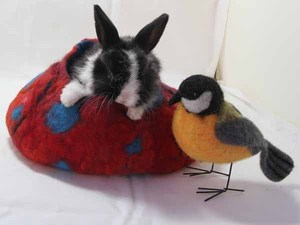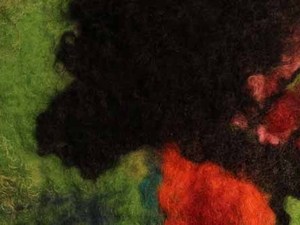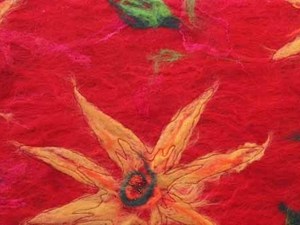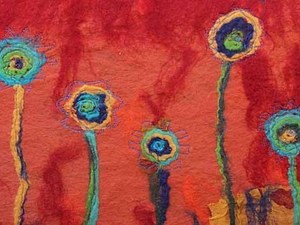 Next Story
On 29th June, Janet Renouf-Miller set off on a 68 day journey around Scotland on a Brompton folding bicycle. She will be knitting and crocheting what she see's along the way, how exciting!
Latest in this category