Featured Artist - Angie Truman
Angie has been a craft enthusiast for as long as she can remember; she enjoys making things and never stops producing, from knitting socks to felting a garment.
She is a Penzance based felt-maker and textile artist, living by the sea with her little family. Angie loves to produce beautiful, well felted, practical garments and accessories, inspired by her life and surroundings.
I love the potential of wool and what it can do. I especially enjoy the way a few handfuls of fluff can transform into something practical and hardwearing, whilst still retaining all the beauty of the original wool mix!
Angie has been a dedicated World of Wool customer since she discovered us a year ago.
Q&A
What is your craft?: Felting.
What is your favourite fibre?: I love the silkiness of alpaca fibre and the way it felts, but love corriedale too, especially with the large number of colours you stock now!
What is your favourite breed of sheep?: Polwarth.
What do you like most about the company?: Sometimes when I make a big order and forget something I phone you up and you'll add it to my order with no fuss. It charges straight to my card, and it arrives with the rest of my wool without me having to place an entirely separate order. You deal with a large amount of customer, but you have the fantastically personal service of a smaller business and it really is much appreciated.
Angie's web site: www.angietrumantextiles.co.uk
Gallery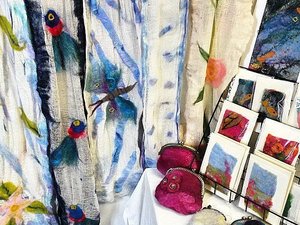 Next Story
The months are getting warmer and Summer is upon us and you may be wondering whether it's a waste of time making wool clothing at this time of year, so the big question is 'How do we wear wool in Summer?'
Latest in this category