Featured Artist - Andrea Hunter
Andrea was born in Wensleydale and, after graduating from Leeds University in 1987, returned to work there as a professional artist for several years before her interest in textiles uncovered a real love for felt making.
Her felt pictures have depth, subtlety, texture and a real feeling of movement. This sense of movement is particularly evident in her windswept landscapes and images of animals. These qualities are born from a technique of working with fine layers of wool as if it were paint.
It is this technique, and a strong illustrative dimension, which makes my work distinctly different from traditional felt art work, and has won me much acclaim.
She has exhibited nationally in the past ten years, and her work has featured in several TV programmes. A permanent display of work can be seen at her studio gallery Focus on Felt in Hardraw, near Hawes, Wensleydale.
Q&A:
What is your craft? Felt Artist.
What is your favourite fibre? Merino wool tops.
What is your favourite breed of sheep? I love depicting Swaledale sheep in my work.
What do you like most about WOW? I like your customer service and the variety of coloured merino tops, as well as the range of interesting fibres which are useful for creating textures.
Andrea's web site: http://www.focusonfelt.co.uk
Gallery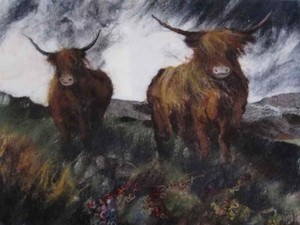 Next Story
Norfolk based Diane Clarke has been crafting for as long as she can remember, learning to knit as a child and continuing this passion ever since.
Latest in this category