Featured Artist - Amanda Adebisi
London-based Amanda has always been creative but rarely had the time to follow her hobbies due to her full time job as Helpline Manager of the National Bat Helpline. But that all changed when she stumbled across some beautiful needle felted animals whilst surfing the web.
I thought to myself that I would love to have a go. So I watched some tutorials on YouTube to get an idea of what you had to do and invested in needles, wool and foam pad. I made a bunny and haven't looked back since! I started felting in July and set up my blog of tutorials to share with others what I have discovered, and can't believe I waited till my late thirties to find such an amazing art form!
I have given creations away as presents but also been commissioned for work too as I have an Etsy shop. Seeing the joy on a person's face on receiving something I have made is so wonderful. I can create intricately detailed animals with character just with a needle, some wool and a sprinkling of love. Making creations such as the little badger I'm holding in the picture, give me so much satisfaction especially when I add a smile and eyes to each sculpture which brings it to life and adds personality.
Q&A
What is your craft? Needle felting inspired by nature.
What is your favourite fibre? Not tried angora or alpaca yet (hope to soon) so for now merino tops as my animals feel soft and like they have real fur. Corriedale is also my fav as the core of my animals, easy to felt.
What is your favourite breed of sheep? Corriedale for sure, great wool to felt and as a breed so cute, look at their faces. Got to love them.
What do you like most about WoW? Friendly feel. Your website is great to use, explains about the fibres, prices are fab and I really like how the delivery man texts you too!
Amanda's web site: http://fittobeloved.com/
Gallery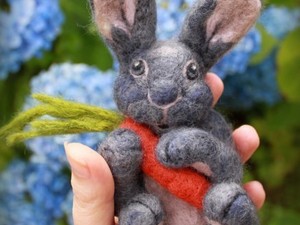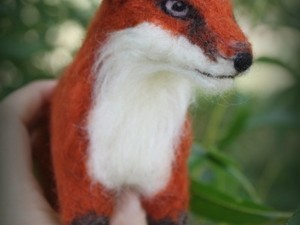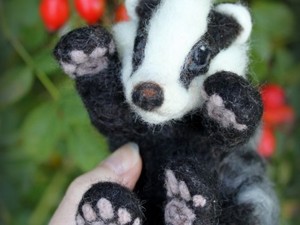 Next Story
Sue was taught to felt about three years ago by a colleague and now runs workshops for people who are experiencing mental health problems, in her role as an Occupational Therapy Assistant Practitioner.
Latest in this category