Featured Artist - Adrienne Brown
Adrienne lives in a small rural town in Ontario, Canada, and is a stay at home mum who spends her days with her daughter, reading and making crafts.
I have been making things for as long as I can remember. I started sewing at 6 and I have been completely addicted to art ever since. I am a busy woman that suffers from a lot of health problems. I am in constant pain and I use my art and work to get through it all. My art and my family are my therapy, what keeps me going, happy and they continue to inspire me. As my daughter grows up she is showing more and more interest in art aswell, she is creative and nurturing and often tells me that she is "making something" as she tries to use my sewing machine and yarn to crochet! I strive more than anything to make natural and affordable toys for children, so they can be nurtured in their creativity and bring that with them into their adulthood.
When asked what she enjoys most about her craft, Adrienne said:
I absolutely love the sheer versatility of wool and I love exploring what I can do with it. I enjoy watching forms take shape when I needle felt. It is amazing how loose dyed wool can become a solid form with nothing more than a barbed needle. With wet felting I love laying out the fibres and seeing them all fluffy and loose and then getting all soapy and shrinking down into a solid piece. It is like magic and I feel like a child on Christmas morning when I open up the finished project and see it. With spinning I love watching the wheel spin more than anything. In this fast and crazy world I find my centre in the centre of the wheel. It is the most relaxing craft I have ever experienced. I am also a texture person so spinning merino and silk is a delightfully delicious experience. Like butter sliding through my fingers. I have always loved how making art has made me feel, how it helps me deal with stress and how I can turn feelings of distress into stunningly beautiful things. For me working with wool is beyond therapeutic.
Q&A
What is your craft? I do needle and wet felting, I also dye wool and spin yarn as well as crochet and knit.
What is your favourite fibre? My favourite fibre is the Merino 23 micron in white. It is soft and lofty and takes dyes beautifully. I absolutely am in love with it.
What is your favourite breed of sheep? Definitely merino. Soft and luxurious with a great staple length.
What do you like most about WoW? I would say that I have three favourite things about WoW and it is a split tie. I absolutely love the selection. I have never found a company with this large a variety of gorgeous fibres. Then there is cost - no-one can beat the prices to be sure and my last (but not least) favourite thing would have to be how fast the shipping is. I live in a small rural town in Ontario, Canada and it never takes more than five business days for my order to arrive. That is just amazing!
Adrienne's web sites:
http://threeseedsforbrownbird.blogspot.ca/
http://www.etsy.com/shop/EntangledForest
(This is where I focus on natural children's toys)
http://www.etsy.com/ca/shop/LuxuriousLoops
(This one is a crochet/ knitting shop)
http://www.etsy.com/shop/ThreeSeeds4BrownBird
(This is my hand spun yarn and hand painted roving shop)
Gallery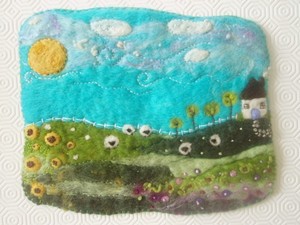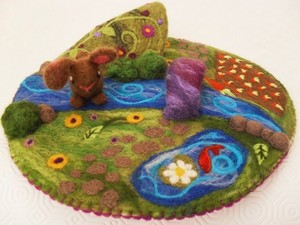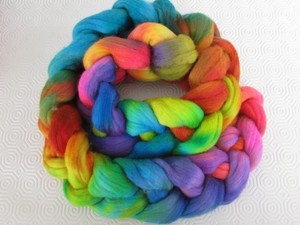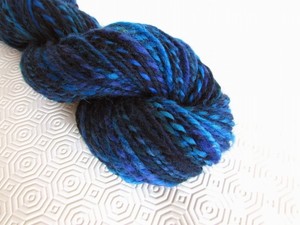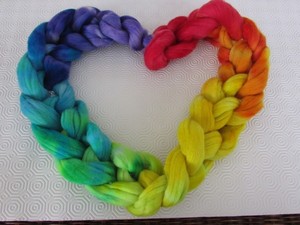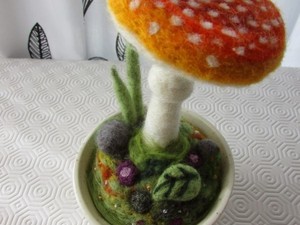 Next Story
London-based Amanda has always been creative but rarely had the time to follow her hobbies due to her full time job. But that all changed when she stumbled across some beautiful needle felted animals whilst surfing the web.
Latest in this category