Extreme Knitting
Extreme knitting is a technique using giant needles and thick yarn to create high quality pieces, ideal for making large scarves, blankets, cushions, carpets and much more!
At World of Wool we stock natural and dyed jumbo yarns which are perfect for extreme knitting. All our jumbo yarns are manufactured on site here at the WoW headquarters. Our jumbo yarn comes in 1kg weight and is made on our specialist machinery to a very high standard.

Our natural jumbo yarns are available in 1kg bags using Merino, Bluefaced Leicester and Shetland wool. Our Jumbo yarn can also be used for arm knitting and finger crochet. 1kg of Jumbo yarn is approx 50m in length. Priced from £19.00 per 1kg.

We also stock handmade jumbo knitting needles, used to create your perfect pieces.

Contemporary textile artist Rachel John invented the process of mixing multiple strands of yarn with large wooden tools 10 years ago. Rachel is designer, maker and inventor behind the extraordinary Extreme Textiles tools and techniques.

She uses between 3 and 150 strands of jumbo yarn to create fabulous pieces, Rachel teaches her unique and innovative techniques such as Extreme Knitting, Extreme Crochet, Extreme Tunisian Crochet, Extreme Weaving, Extreme X-Stitch and Tapestry at her workshop in Bristol and around the UK.

What will you make with your jumbo yarn? Tweet us @worldofwool

Source: Mega Knitz

Photo: with thanks to Mega Knitz
Posted
18th February 2016
Share
Next Story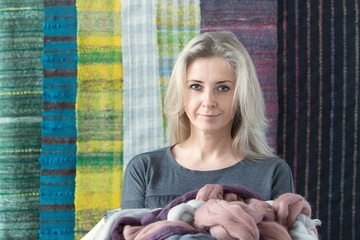 Ilona was born and lives in Lithuania – a beautiful green country near the Baltic Sea and loves making anything from felted slippers to handwoven scarves!
Latest in this category