Colours from the Runway - Spring 2016
We've been working hard searching for this Season's must have colours for Spring, as we know that being 'on trend' is a must for our talented customers! So let's take a look at what we found...
For Spring 2016 there are truly no perceivable distinctions in colour choices between the men's and women's collections. Designers were inspired by the contrast of urban design and lush vegetation, leading to unexpected colour combinations and collections reminiscent of architecture, travel and nostalgia.
By creating looks that truly represent the world we live in, both constructed and organic, designers sought to awaken a sense of reflection, followed by playful escapism. Artists, many of whom are known for bold colour usage and strong shapes and lines, played an influential role in this season's styles, designers are playing with courageous colour statements that aren't afraid to be vibrant but at the same time are combined with quieting, classic and more natural tones.
Colours this season transport us to a happier, sunnier place where we feel free to express a wittier version of our real selves and for those softer shades that offer a sense of calm and relaxation.
And it's now up to you to decide what trendy shades from the World of Wool collection you are going to paint your new season wardrobes in!
So what do we have in our dyed merino fibre range to capture the mood of the Spring season 2016?
Coral (317)
Price: £2.99 per 100g
Dream (57)
Price: £2.99 per 100g
Ocean (42)
Price: £2.99 per 100g
Jonquil (313)
Price: £2.99 per 100g
Aqua (321)
Price: £2.99 per 100g
Granite (303)
Price: £2.99 per 100g
Scarlet (61)
Price: £2.99 per 100g
Emerald (88)
Price: £2.99 per 100g
Source:
Pantone
Tweet us with your designs
@worldofwool
Next Story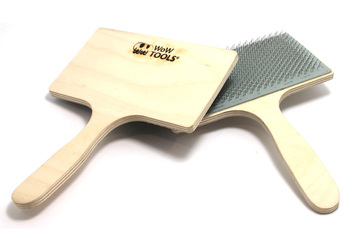 Handmade hand cards from our WoW tools range feature 72 point stainless wire with rubber backing. These hand cards are lightweight and very easy to use with most wools and fibres for fine spinning.
Latest in this category